Statement of Information Preparation Engagement
Review and sign our engagement agreement
In an effort to streamline our engagement and onboarding process, we have implemented an online engagement agreement with e-sign capabilities. Please complete and submit the form below to be redirected to our engagement agreement which you may then review and sign electronically.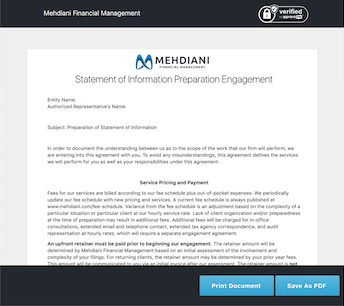 Statement of Information Preparation Engagement
Please provide the following information, then press submit to be redirected to the engagement agreement.
Locations
Beverly Hills Office:
9025 Wilshire Blvd, Suite 301
Beverly Hills, CA 90211
Encino Office:
16030 Ventura Blvd, Suite 490
Encino, CA 91436
Phone: (310) 800-1472
eFax: (310) 496-2565